Electronic Media & Film Major
Film and electronic media increasingly shape our view of the world. Bring your creative voice to life, and learn to create content, produce, analyze and critique a range of genres.
Study the aesthetics and production of film, television and radio. The courses in each of three concentrations help you develop skills in writing, media history and criticism, and professional media production. The major will prepare you for careers in film, television, video, audio, radio and other media.
Choose Your Concentration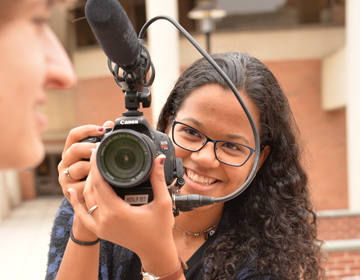 Film/Video/Digital Media
Delve into the production of electronic media and film. Learn the techniques required to tell stories and create meaning in film, video, and digital media. View degree requirements in the Undergraduate Catalog.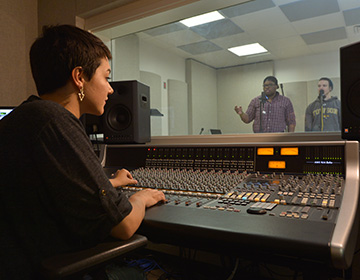 Radio/Audio
Explore the fundamentals of audio and radio production and how they are applied in the music, film, cable and news industries. View current degree requirements in the Undergraduate Catalog. For students who began the program in the 2019-20 catalog year or earlier, view the previous degree requirements.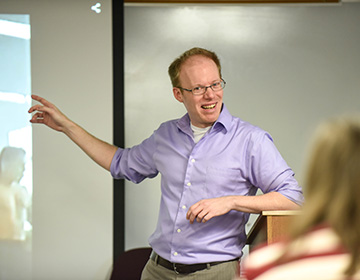 Film and Media Studies
Discover cinematic genres, styles, and decades by studying both celebrated and unsung filmmakers. Explore national and international cinemas, vibrant cultural impacts, and fascinating histories and narratives through screenings and active discussions and critiques. View degree requirements for the major in the Undergraduate Catalog.
You will be assigned an adviser to help you design a program to meet your needs. Meet with your adviser each semester to discuss your progress toward graduation and possible career opportunities.
Admission Requirements
Electronic media and film is a screened major leading to the Bachelor of Arts or Bachelor of Science degree. Students are considered a pre-electronic media and film major until they fulfill all requirements necessary for full major status. Learn more about admission to the major.
Why Towson University?
Media Access
Towson University's Media Center gives you the opportunity to gain hands-on experience in creating your own productions. Take advantage of the journalism, multi-media, video and audio labs. You can also get involved with the university's student-run radio or television stations.
Internship Opportunities
Gain professional experience and valuable contacts through an internship. Our majors have interned with CNN, Academy of Television Arts and Sciences, network television stations, Hearst radio stations, American Film Institute, Maryland Public Television, the Baltimore Ravens and many other organizations.
Study Abroad/Away
Find out how you can incorporate a study abroad/away experience into your academic program and pursue coursework in some of the world's largest media markets.