Alumni
The designation "University Honors Scholar" is only bestowed on Honors College graduates.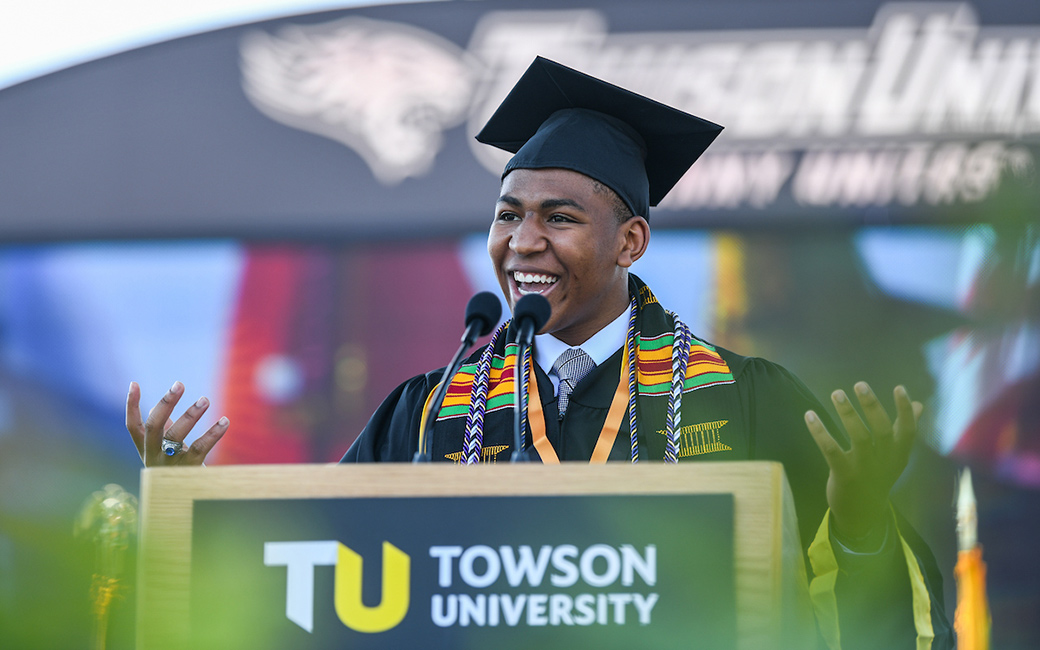 The Towson University Honors College is committed to enhancing the relationship between the college and its former students. The Honors College works to keep alumni, parents and friends informed, interested, and active through a variety of programs and activities throughout the year.
The Honors College is committed to identifying meaningful ways to enrich the lives of Honors alumni by providing resources and opportunities that include:
Assistance with preparing prestigious scholarship and award applications
Cultural and professional programs that foster intellectual growth and lifelong learning
Events that strengthen relationships between similarly-motivated peers
Alumni are active in the life of the college by giving through their time, talents and treasure. There are many opportunities to get involved in the TU Honors community such as:
Sharing your TU story and success with current Honors students
Mentoring current Honors students with similar career aspirations
Leadership roles in fundraising
Recognition of alumni achievement
Participating in an alumni focus group to improve the Honors experience
Membership on the Honors Alumni Council
Participating Honors recruitment and orientation programs
Supporting Honors student research programs and events
Supporting the Honors College through charitable giving
Three Honors students sitting in front of Tiger statue
Distinguished Honors College Alumni Award
Achievement is a way of life in Honors. The same passion and motivation that is characteristic of Honors students is evident in the lives of Honors alumnae. In 2013, the Honors College inaugurated the annual Distinguished Honors College Alumni Award to honor their professional achievements and contributions to society.
Past Distinguished Honors College Alumnae Award Winners
No Distinguished Honors College Alumni Award winners were named in 2020 or 2021 due to to the COVID-19 pandemic.
Eric DeVilbiss '04 (2022)
Tiana Cruz '10 (2019)
Michelle Laird '03 (2018)
Lindsay Roberts '10 (2017)
Tim Bibo, Jr. '00 (2016)
Alexandra Towns '05 (2015)
Sarah Elfreth '10 (2014)
Emily Massey '01 (2013)
Honors College Alumni Volunteer Award
This award is given to an alumnus/a who demonstrates their dedication to the TU Honors College by volunteering their time and expertise to the Honors program and its students. Through mentorship, serving on the alumni council, and volunteering to assist with Honors programs and events, the Alumni Volunteer of the Year is an avid supporter of the TU Honors College.
The inaugural 2021 Honors College Alumni Volunteer Award winner is Sheariah Yousefi '13.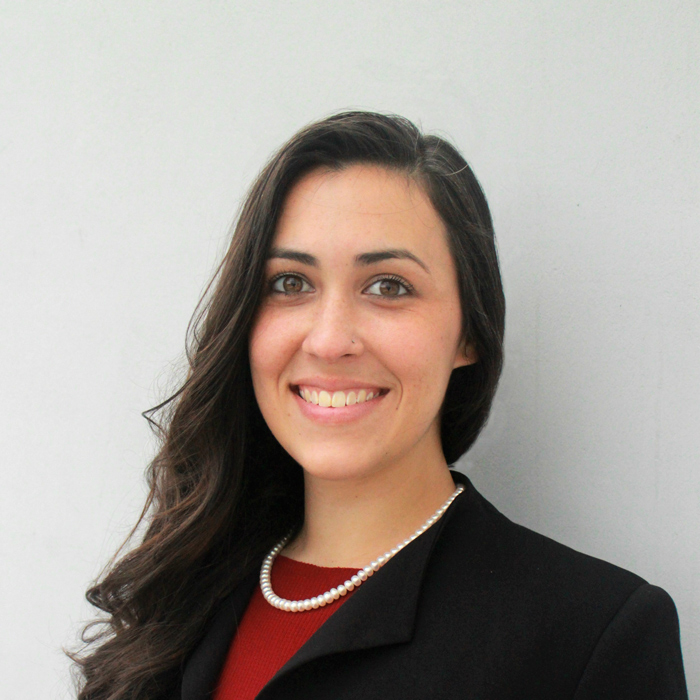 Sheariah Yousefi is a 2013 graduate from the TU Honors College with a Bachelor of Science degree in Music Education. As a transfer from the Community College of Baltimore County, she began at TU in 2010 and quickly became involved and a standout student. Yousefi was a member of the many Honor societies, was on the Dean's List every term, and was selected for TU's Fine Arts University Scholarship.
During her senior year at TU, a faculty member recommended her to the Honors College administration as someone who should be considered for some competitive programs the Honors College was hosting in the coming months; one being for an internship with The Washington Center in D.C. and one for a program with the South Korean Ministry of Education. Yousefi's impressive academic prowess landed her a position with both organizations. She spent her final term at TU in Washington D.C. working with the Executive Director of the National Association of Federally Impacted Schools. Just three weeks after the D.C. internship was completed, Sheariah found herself on a plane to South Korea to start her position as a Government Scholar and an English Language Teacher for a Korean elementary school.

These two experiences helped pave the way for her career in D.C. and beyond. When she returned to the US, she secured as position as the Head Staff Intern for U.S. House of Representatives Congresswoman Mimi Walters. With one experience building on another, Yousefi crafted her journey through Washington and became a lead policy staffer for issues relating to foster children in schools and students who are experiencing homelessness. Following her time in Washington D.C. Yousefi returned to South Korea again, this time as a lead English instructor for a prestigious foreign language academy. She spent three-and-a-half years in South Korea as a Foreign Language instructor, working for private academies as well as the Ministry of Education.
After recently returning to Maryland with her husband and young son, Yousefi didn't waste any time volunteering for the Honors College and served as a judge for the most recent Celebration of Scholarship and Learning. "I remember participating in the program when the program started, so it's exciting to see how its grown, how the college has grown, and to see the diversity in students' experiences. I loved learning about the student presentations and offering feedback. There was a lot of pride watching them present," said Yousefi.
Yousefi served on the TU Honors Alumni Council since its start in 2013. Even during her time spent thousands of miles away from TU's campus, she volunteered to mentor Honors students interested in learning more about South Korean teaching programs for US students and served as creator and author of the Honors College Alumni Spotlight by writing profiles of other distinguished alumni each year. Yousefi noted "if it wasn't for the Honors College, I would not have known about the D.C. Internship experience or the opportunity to teach in South Korea. Those experiences paved the way for my future and wouldn't have applied to them if it wasn't for Honors. Honors was integral to my undergraduate experience, my career, and my life. I am incredibly thankful for what Honors has given me and I want to give back in any way I can."
Alumni Features
Alumni Features highlight the outstanding things our alumni are accomplishing around the world. The idea for the feature came from Alumni Council member Sheariah Yousefi '13. Yousefi will author the features going forward, but the first piece was written about her. Click the links below to read the profiles.
November 2021 - Lindsay Robbins and Lily McFeeters (PDF)
May 2019 - Tiana E. Cruz (PDF)
November 2018 - Vincent Glynn (PDF)
May 2018 - Michelle Weber Laird (PDF)
March 2018 - Michael Ukoha, D.P.T. (PDF)
November 2017 - Sarah Elfreth (PDF)
October 2017 - Sheariah Yousefi (PDF)
Honors College Alumni Council
Mission
The mission of the Towson University Honors College Alumni Council is to establish on-going relationships with and among Honors College alumni. It is also the mission of the Honors Alumni Council to strengthen the Honors College and its students through mentoring, supporting, and advocating on their behalf.
Goals
The goals of the Towson University Honors College Alumni Council are:
To build relationships with and among Towson University Honors College alumni
To provide opportunities for alumni to mentor and network with undergraduate Honors College students
To support the Honors College
To recognize alumni accomplishments
Core Values
The core values of the Towson University Honors College Alumni Council are:
Relationship Building
Mentorship
Advocacy
Service
Membership
The members of the Honors Alumni Council are:
Mark Bickley '15
Megan Cronhardt '15
Diana Goldsmith '16
Megan Herman '14
Lyndsi Jones '17
Luke Penne '14
Miranda Rennie '17
Neta Shwartz '16
Melissa Stoker '14
Melissa Sweeney '99
Michael Thompkins '14
Stephen Torres '14
Michael Ukoha '14
Sheariah Yousefi '13