Honors College
Exceptional Minds. Extraordinary Futures.
Joining the Honors College
Apply to the Honors College
The Honors College application for incoming students is available through the Towson University application. Current TU students can apply through the Honors application for current students. Applicants seeking admission in spring 2024 applicants must apply by November 15. Applicants seeking admission in fall 2024 observe the following deadlines: first-year Early Decision November 15; first-year Regular Decision February 1; and transfer applicants March 1.
The Towson University Honors College is committed to the intellectual and character development of highly engaged undergraduate students. With an emphasis on interdisciplinary study, research and co-curricular experiences, we seek to cultivate inquisitive minds and foster broad knowledge that strengthens students' scholarly interests, nurtures their talents, develops their sense of ethical responsibility, and enables them to navigate an increasingly complex globalized world.
Five reasons to choose the Towson University Honors College:
Enriched Seminar Classes
Seminars are the core of the Honors curriculum, and each one is designed to explore topics from multiple scholarly points of view. Our discussion-based, collaborative classes examine creative topics that you'll only find here, in small settings of 10 to 20 students.
Community Engagement
We are a small community of highly motivated individuals within a large university setting. Honors students are athletes, leaders, and dedicated members of their campus, local, and international communities. Douglass House, the Honors Living Learning Community, is where you can live, work, and learn with other Honors students in pursuit of your passions with the guidance of faculty and staff.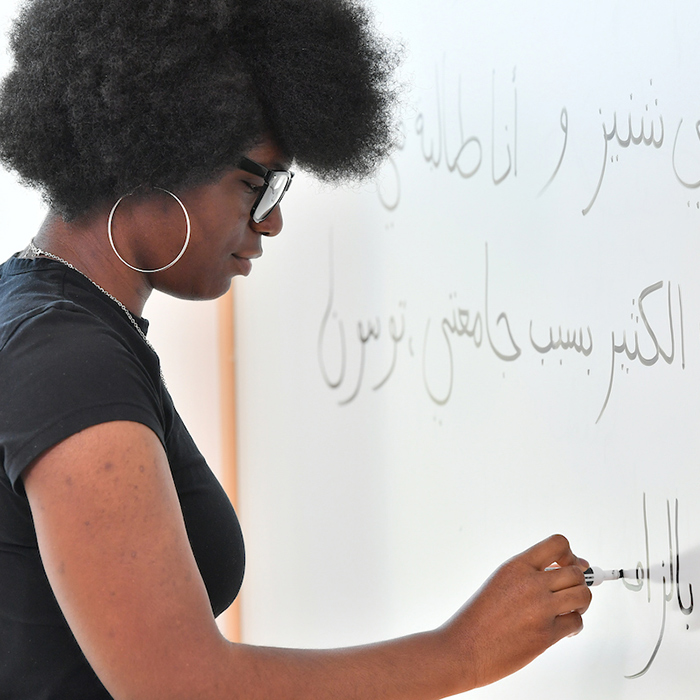 Perspectives from Multiple Disciplines
Honors courses not only reflect the different disciplines that faculty draw upon in creating the courses but also the different academic perspectives of students within the courses. Almost all Honors seminars have students from at least four of the six degree-granting colleges at Towson University, offering a rich mix of student ideas seldom found in American higher education.
Outstanding Faculty
Honors faculty represent a range of disciplines and scholarly outlooks. What they share is a passion for teaching and for advancing student learning. Faculty work with students in the Honors College by choice, and they bring to the program examples of intellectual curiosity and professional accomplishment. Most importantly, they are eager to support students who seek opportunities for growth.

Contact Information
Honors College
7800 York Road, Suite 134
View Map
Hours
Mon - Fri: 8 a.m. - 4:30 p.m.