EduCycle Computer Reconditioning Program
EduCycle reconditions, upgrades and redistributes university-owned computers that have reached the end of their instructional lifecycles.
Inventory Temporarily Unavailable
EduCycle doesn't have computers or monitors available until at least October 2025 due to the Windows 11 OS campus-wide computer replacement project.
Our current inventory is limited and needed to replace non-compatible campus computers.
Through a partnership approach involving multiple campus departments, this program is guided by the following principles:
Extend the lifespan of computers to continue to serve students' interests
Provide service learning opportunities for participants through the computer reconditioning aspect of the program
Complement and expand the Towson University's Green Initiative
After campus needs are met, offer refurbished computers to local public schools where they will continue to contribute to student learning and success.
Potential Use of EduCycle Computers on Campus
EduCycle computers can fill technology needs when purchasing a new computer may not be an option. Some examples of on campus use include the following:
Support for student projects, research, study, etc.
Special projects, phone banks, collaboration spaces
Student groups and organizations with on-campus offices
General training and professional development
Faculty/staff office computers not yet eligible for the Computer Trade-Up Program
Special-use computers: walk-up or kiosk stations, apparatus controllers, data collection stations, conference rooms, email stations in workrooms, etc.
Self-support departments, centers and institutes
Additional Information (PDF) about EduCycle
Will a Reconditioned Computer Meet Your Needs?
Determine which reconditioned model(s) will meet your needs.
Available Computers and Requests
Laptops (Windows and Mac) are only occasionally available, and when they are, quantities are limited. We maintain a waiting list for these models, and process requests in the order they're received.
At this time, EduCycle does not have any computers available until at least October 2025, and an update will be provided when we do.
How to Transfer Computers and Monitors to EduCycle
Transfer the following old or unneeded technology to EduCycle instead of sending them to Materials Management for disposal:
Dell Optiplex 7050, 7060 computer models and newer
Dell Latitude XX80, XX90 and newer
All Windows computers purchased in 2017 or later
All Mac computers purchased in 2015 or later
All tablets, e.g. iPads, Surface, Android, etc. purchased in 2015 and later
All LCD monitors without badly scratched or damaged screens
Even though the equipment is going to EduCycle, you will still need to fill out a Material Management Service Request (MMSR), which can be found on the Forms Repository. Refer to the MMSR Instructions (PDF) and be sure to follow existing property management policies.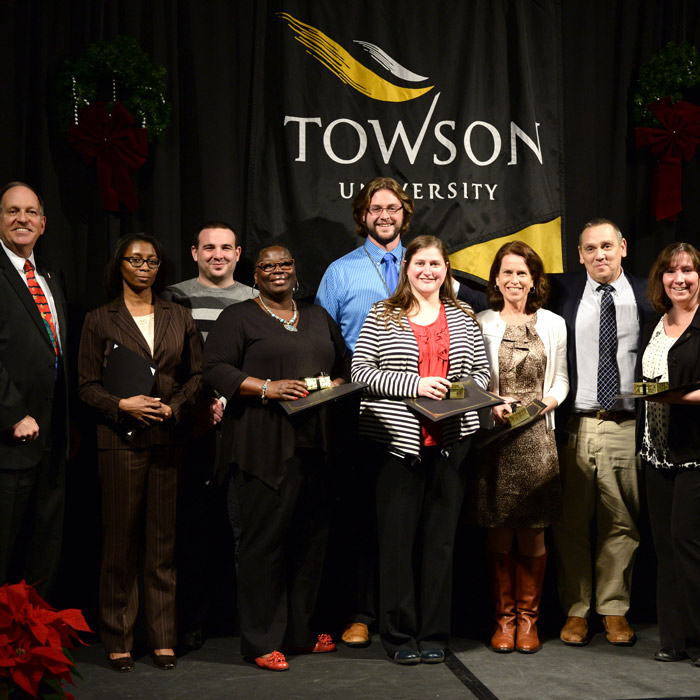 ACE Award Winner
The EduCycle program received the 2015 Towson University Administration & Finance Group ACE Award for going above and beyond normal work responsibilities to improve the campus.
410-704-4561
EduCycle@towson.edu
Contact Information
EduCycle
Hours
Monday - Friday
8:00 a.m. - 5 p.m.