Art for Social Change
The following artists reflect on historical and current events, addressing political, social, and environmental issues, creating art to effect community dialog, reflection and change.
Wujian Wang
Wujian Wang is a visual and conceptual artist who pays deep attention to people who share the same life experience, and creates photographs that address ongoing global issues. Wang captures the conscious and unconscious moments that are tragic and profound, and ongoing related events in order to evoke resonance and deep thinking.
The novel coronavirus is a global pandemic. This new type of virus has infected over 2 million people in four months and has caused thousands of horrible chain reactions that include medical supply shortage, forced home isolation and temporary business shut downs. This COVID_19 series contains five photographs that address wildlife protection, forced isolation, and panic embedded in individuals. By juxtaposing different wild animals and models, COVID_19 series helps people to think about how people should treat and protect wild animals. Self made face masks on the models reveal the emergent medical supply shortage world-wide. By portraying sadness, fear, terror, absurdity, and dark humor, this surreal manifesto raises vital conversations around coronavirus, wildlife animals, and human community through an unconventional vision.
Nahid Navab
Nahid Navab is an Iranian-American artist based in the Washington, DC area. Born and raised in Iran, she moved to the United States in her early thirties. A seasoned world traveler and profoundly influenced by Persian history and literature, Navab skillfully blends cultures from across the globe to create artwork infused with a synthesis of heritage and contemporary urban life. Navab's works present her belief that art is a conduit for social change. Art can intelligently light the path to find new solutions to society's oldest problems. Her works reflect her interest in global unity and women's issues. Four of Navab's works are on view here. Goddess Hilla is a young ageless outspoken goddess, poet and storyteller. She is fighting for equality and justice. Mybody-Myself is inspired by acclaimed Iranian artist, Golshifteh Farahani, who pursued her goals and her career inspite of all the pressures and discrimination against women.
Mary Champagne
Mary Champagne is a multidisciplinary artist whose practice addresses the generational repercussions of forced relocation, referencing her grandfather's experience as an interned Japanese-American during World War II and its subsequent impact on her family. More broadly, her work critiques politicizing the act of migration, working to reconstruct the dissolute narratives of diasporic movement. These works acknowledge the tenuous nature of her practice, piecing together 'artifacts' with inferences that provide a fragile, provisional context--a context that continues to evolve. Five of Champagne's works are on view here.
Excavation (2019) is an image I took of the cracked desert earth at the site of the Topaz Relocation Center, June 2018. Much of the art produced by internees during Topaz referenced the novel climate as they described their own condition, lamenting that such infertile, arid soil would be unable to foster any transplanted life.
Draft (2019) utilizes an image of my grandfather at Basic Training in 1951, having been drafted just 6 years after the closing of the Topaz Relocation Center. The blueprint for any given weave structure is also called a 'draft.' Draft considers duty and obligation in addition to the reconstruction of the image through the woven matrix.
Waterleaf paper is paper without sizing in it. Sizing is used in paper to preserve structural integrity when acted on by humidity. If waterleaf papers were to be rehydrated, they would simply dissolve. Each piece in Waterleaf Study (2019) encases a piece of another structure, generating an archive of fragmented artifacts.
Kei Ito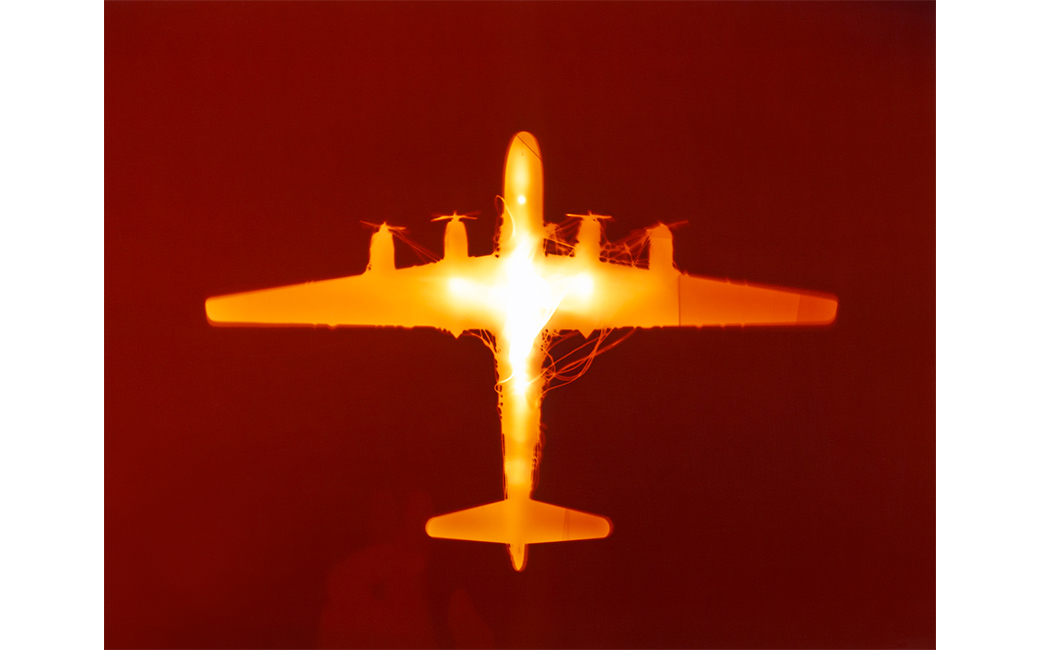 Kei Ito is a conceptual photographer working primarily with camera-less image making and installation art. Ito's work addresses issues of deep loss and intergenerational connection as he explores the materiality and experimental processes of photography. His work deals with the trauma and legacy passed down from his late grandfather, a survivor of the atomic bombing of Hiroshima and a later anti-nuclear activist, in relation to current threats of nuclear disaster.
Ito's artwork is breaking down the machine-based modern photography into an organic and human process; an embodiment of his performative artmaking due to his use of sunlight as his exposure unit and the duration of his breath for the exposure time. Ito's artworks leads the audience on a journey from grief and remembrance to hope. Through his ritualistic image-making, the audience sees how he grapples with his family's historical connection to nuclear weapons and power. Thus, Ito's art serves as an intermediary, a memento of his grandfather, and his own experience in today's nuclear climate.

Wanjin Kim
We are living in the 21st century and rapid development is needed for the sake of everyday convenience. Even though we are living in modern society, I feel an emptiness in my heart. Before we used computers and machines, people made tools for their needs such as stamps, awls, keys and locks. We can see how past generations used tools and utensils and the meanings of antiques. I was born and raised in South Korea. Korea has a long history with agricultural tools and equipment. Before all those precious antique tools are thrown away, I wish we could keep those treasures for not only the art world, but also for the preservation of history and culture.
Beichen Zhang
A photographer and filmmaker, Beichen Zhang was born in Shandong, China. By researching the structures of narration and unveiling hidden histories, he frames most of his works through essay films and field-based research. Recently, he has worked with a broad range of media using audio, installation, and art books to query and investigate the relationship of artifacts and Asian colonial history, the complexity of historical documentaries, as well as visual anthropology.
The Stranger project documents the memories and objects of immigrants in North China. Through the investigation of several labor immigrant camps, the artist presents several photo works to inquest the diaspora of labor migrations and how urbanization fundamentally transforms personal memories.
Ruiqi Zhang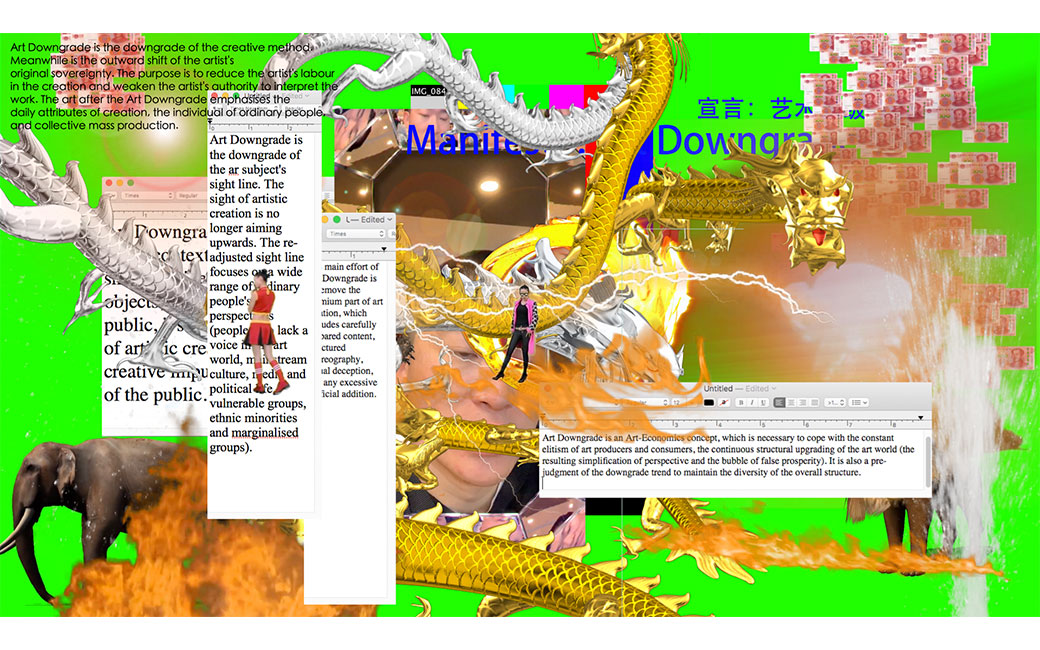 WATCH "MANIFESTO: ART DOWNGRADE" ON VIMEO
Ruiqi Zhang is a media artist, writer, cyber ​​citizen and cultural observer from Liaoning Liaoyang (China). Ruiqi's art and practice explores the post-Internet art in the Chinese context and the relationship between the online rural community and Internet culture. His research is focused on the increasing number of content producers redefining the current image production system. Rural community users are developing a distinctive cultural phenomenon, involving aesthetics, class, politics, and economy. Many of Ruiqi's works explore media strategies, cultural and class divide under the current dominant discourse system.
Manifesto: Art Downgrade is a composite concept that combines art and economics, from the research of ima.ge production related to the popularity of low-cost smartphones and the slowdown of China's economic growth in recent years. With the declining consumption power of the urban middle class, new economic growth points exist in a wider range of non-urban areas and rural populations. This manifesto advocates the reevaluation of alternative perspectives and decentralization of urban narrative in contemporary art creation. By splicing a large number of green screen materials from the Internet and selfie clips made by mobile phone, the manifesto aims to evoke the creative impulse and imagination of ordinary people. Meanwhile, it encourages the integration of open-source media, technology, and daily labor in creation.