International Walkway
To celebrate the rich diversity of the Towson community, encourage study abroad opportunities and enhance campus beautification, President Emerita Maravene Loeschke '69/'71 created the International Walkway in 2012. The walkway features illuminated flagpoles flying international flags that represent the home countries of Towson University's international students. The site for the International Walkway is located between the College of Liberal Arts and the Psychology Building.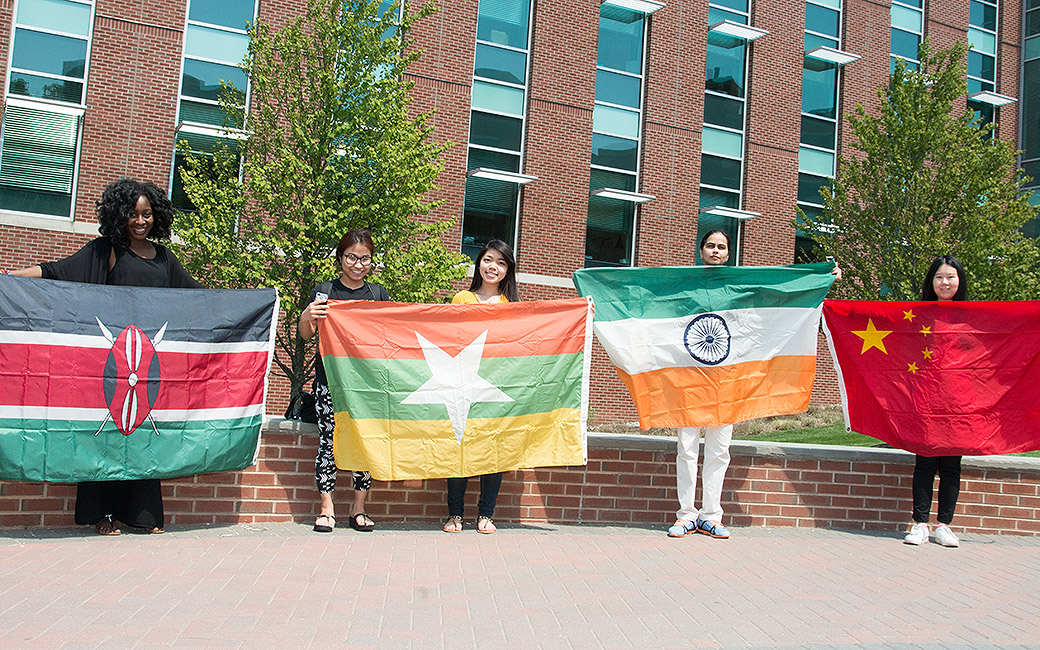 November 13 to 17, 2023. (Program schedule subject to changes)
International Education Week (IEW) occurs annually during one week in November, and is a nation-wide event, celebrated at many institutions around the world. The International Initiatives Office teams up with partners across campus to host events and activities with a global theme.
International Walkway Flag Rotations
The International Walkway flags are rotated based on Towson University's international student population. We encourage our campus community to watch or participate in the hoisting of the flags and celebrate our campus' vibrant diversity.
Upcoming Rotation
When: November 13, 2023 at 12:00pm
Location: The circle between the College of Liberal Arts and Hawkins Hall
Nations whose flags are to be flown:
Antigua
Argentina
Australia
Bangladesh
Bermuda
Cambodia
Canada
Chile
Costa Rica
Germany
Ghana
India
Kenya
Mali
Myanmar
New Zealand
Saint Lucia
Saint Vincent & the Grenadines
South Africa
Thailand
United Kingdom
Uzbekistan
TU community members interested in participating should RSVP to isso AT_TOWSON .
*Towson University protects the rights of all international students and respects how students define themselves as national citizens. The flags flown reflect our respect for, and celebration of those students who belong to our TU community.