On-Campus Recruiting
The following section contains everything you need to know about the On-Campus Recruiting Program at Towson University.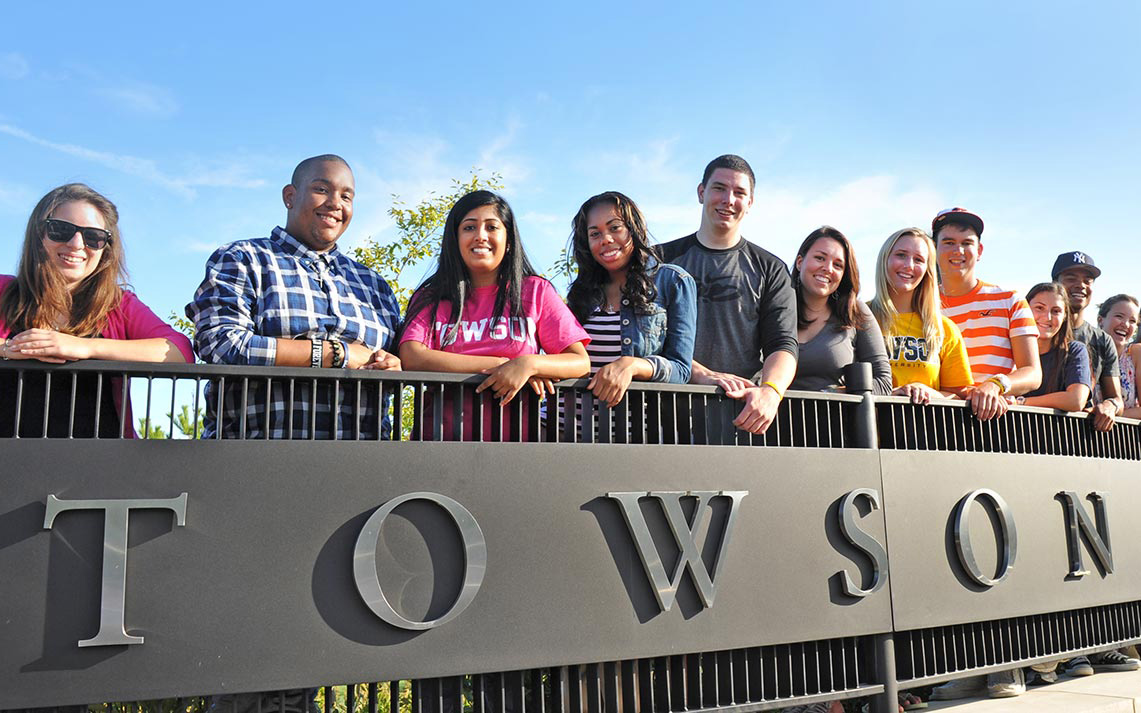 On-Campus Recruiting Program (OCR) – Policy and Procedures
The OCR program consists of a systematic interview scheduling process using our web-based system, Hire@TU. It is designed to effectively connect employers with eligible candidates to interview for professional* full-time job and internship opportunities. The program runs from late September through November and late February through April.
Policy
All on-campus interviews should be scheduled through Hire@TU.
Creating your own on-campus interview schedule is allowed if it is pre-approved by the Recruitment Specialist, Tasha Benn at tbenn AT_TOWSON. (This type of interview schedule is generally not recommended as it does not prove as effective as using Hire@TU).
If five or more students sign up for interview slots, please do not cancel the interview. However, if you must cancel, please contact the Recruitment Specialist, Tasha Benn, within 48 hours to allow time to contact the students. Please provide us with a reason to share with the students regarding the cancellation, and if possible, provide an alternative way to meet with the students. It is recommended that you also reach out to students.
Procedures
Please post your position(s) prior to requesting an interview schedule.
To post your position or update it, log in to Hire@TU
On the Menu bar, click "My Jobs," - click "New Job" or "Job List" to add your position(s).
Then request an interview schedule: In Hire@TU on the Menu bar, click "Schedules," then click "New Schedule Request."
Scroll to "Interview Request Preferences" – and fill in the required fields. For schedule type, click Preselect – This allows you to review the applications (resumes) prior to making decisions based on your criteria.
You will be notified by email that your schedule has been posted. Please review the schedule to make sure that it is correct. If you decide that changes need to be made to your schedule, please contact Tasha Benn at 410-704-3667or tbenn AT_TOWSON. Change requests to the schedule should be made prior to students signing up for timeslots to eliminate complications. Once approved, students can view it and apply online via Hire@TU.
Application Process
View candidates who have applied:
Log in to Hire@TU - on the Menu bar, click "Schedules," and then click the "Schedule List" and then the "Schedule ID #."
Click "Manage Preselects" (on the left under Page Functions) to review applicants' resumes.
Make decisions on applicants:
The application deadline is one week prior to the interview date. You will be notified by email that the deadline is approaching and will be prompted by email to make selections.
To make selections, log in to Hire@TU, on the Menu bar click "Schedules," then click the "Schedule List."
Click "Manage Preselects" to view applicants and make selections (on the left under Page Functions). Click "Accepedt" or "Not Accepted" for each student.
Click "Save Picks" then click "Submit Picks" to finalize selections. Please review your selections before you submit them. Please be sure of your selections prior to clicking "Submit Picks." Once you submit picks, the system will not allow you to re-enter to make changes.
How to view a schedule once students have signed up for interview slots:
Log in to Hire@TU; On the Menu bar click "Schedules," then click the "Schedule List" then the "Schedule ID #.
Scroll to the middle and click "Session ID #" to view timeslots.
*A professional position is one that requires a degree (Associates, Bachelors, Masters, and Doctorate) or some college training, or one that provides opportunities for advancement to a position that requires a degree such as an internship.
Other OCR FAQs
1. Where are the interviews held?
The interviews are held on campus in the Career Center, 7800 York Road, Suite 206.
2. How do I obtain a parking permit?
You will receive an email with parking directions and a parking code. If you misplace your parking code, please contact the TU Recruitment Specialist at tbenn AT_TOWSON.
3. Where do I park?
Visitor parking is located in the parking lot adjacent to the Administration building, 7720 York Road (one building south of the Career Center on York Road). Enter the parking lot from Cross Campus Drive; make an immediate left and another left. This will put you in the visitor parking area (a yellow pay station is located at the entrance to the parking lot).
Please park your car in a reserved visitor space, walk to the pay station to print coupon located in the lot.
Enter your parking code previously emailed to you from the Career Center, follow the prompts (departmental guest) and place permit on the dash of the car.
We encourage you to car pool since space is limited and a limited number of coupons can be issued per organization. Additional coupons may be purchased at the pay station at your expense.
Each coupon is valid for one use only, however, if you require additional coupon numbers please contact the

TU Recruitment Specialist at

tbenn AT_TOWSON.
The Career Center location:
7800 York Road – Suite 206, 2nd floor, one building north of the Administration building where you will park. Please use the crosswalk on Cross Campus Drive; then follow the pedestrian bridge through the Glen Parking Garage which is adjacent to our building.
Once inside the building, descend one level to the 2nd floor and proceed to the end of the hallway.
If you have any questions regarding parking, please call the TU Recruitment Specialist at tbenn AT_TOWSON.
Please park in visitor's parking to avoid a $75 ticket or possible towing. Parking is strictly enforced on campus and the Career Center cannot be responsible for illegal parking. Thank you.
4. Where can I purchase morning refreshments and lunch?
The Career Center will have bottled water available for on-campus recruiters. If you would like to pick up coffee, tea or breakfast, or if you are planning your lunch schedule, the following cafes are recommended:
Starbuck's: Located at the corner of W. Burke Avenue and York Road just north of Towson University – Drive-thru is available.
7720 Café: Located on the first floor of the Administration Building adjacent to visitor parking – breakfast and lunch served.
Bill Bateman's Bistro: Located in the first floor of our building – lunch and dinner served.