Occupational Therapy (OTD) – Entry-Level
Towson University has been successfully preparing occupational therapy graduates for over 40 years. We offer the entry-level clinical doctorate (OTD) for those looking to enter the field with elevated leadership skills and additional, focused clinical experience.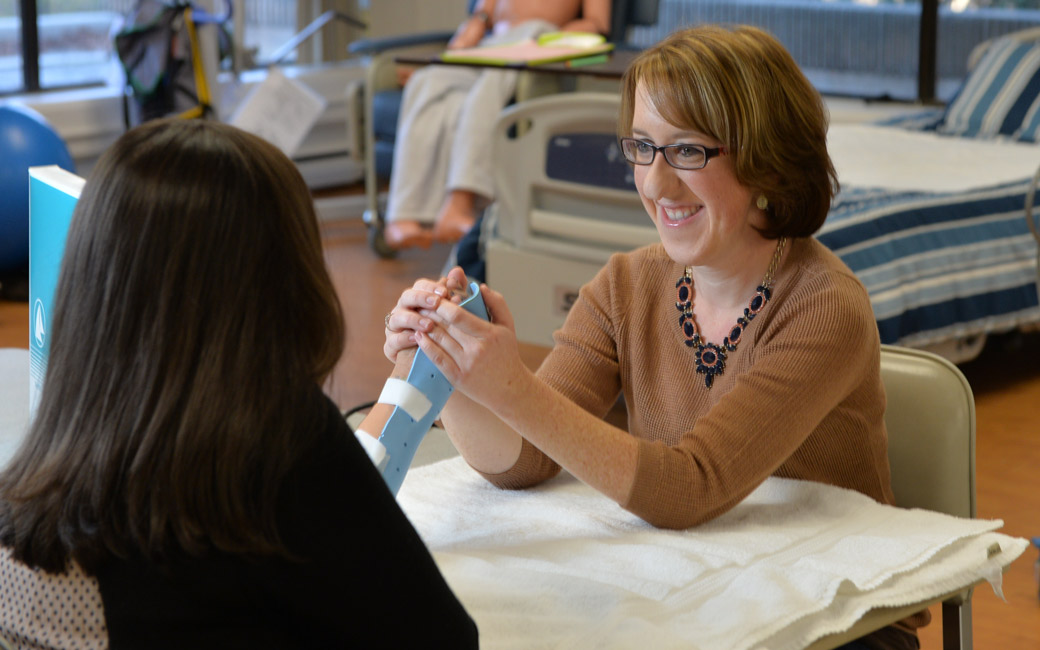 Why Choose the Entry-Level OTD?
The Entry-Level Occupational Therapy Doctorate (OTD) is designed for individuals without a degree in occupational therapy who are looking to enter one of the fastest growing fields in health care with an advanced set of leadership skills and clinical experiences.
The entry-level OTD curriculum is grounded in the science of occupation and designed to prepare skilled and ethical clinical leaders. The program uses active learning experiences, such as labs and clinical opportunities, to develop skills of knowledge translation and the ability to evaluate research evidence. The program is not intended to prepare individuals to conduct independent research in line with a research doctorate, nor assume academic roles of a tenured or tenure-track professor.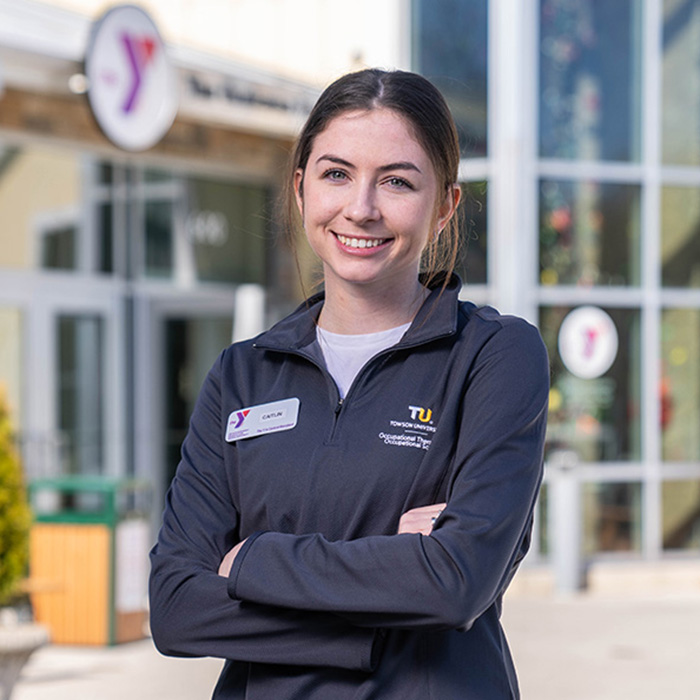 About Our Students
Doctoral student Caitlin Berger is supporting the health and well-being of individuals with Parkinson's by expanding occupational therapy community resources.
Read her story
Not sure if the ELOTD is the right fit?
A Community-Based Program
The department's 40-plus year history of collaboration with world-renowned healthcare resources in the area as well as community programs and agencies benefits students with access to the full continuum of health care delivery. The Occupational Therapy Center and Hussman Center for Adults with Autism in the Towson University Institute for Well-being provide additional fieldwork, research and service outreach opportunities.
In the last semester of the program, students complete a Doctoral Experiential Practicum (DEP) that dovetails with a required Capstone Project. The DEP and Capstone Project involve direct interaction with an assigned community program or agency to address the site's needs and priorities in ways that allow students to refine self-identified targeted learning goals skills beyond the generalist level. Students are mentored by faculty throughout the DEP and Capstone Project. Community site agreements are made based on the ability of the site to provide the targeted experiences for students and supervision capacity.
Admission to the Entry-Level OTD
Entry-Level OTD applicants must satisfy all admission requirements and deadlines to be considered for admission to the program, and must complete all prerequisite coursework prior to entering the program.
Accreditation status
The program is accredited by the Acceditation Council for Occupational Therapy Education (ACOTE) of the American Occupational Therapy Assocation located at 6116 Executive Boulevard, Suite 200, North Bethesda, MD 20852-4929. ACOTE's telephone number c/o AOTA is (301) 652-AOTA and its web address is www.acoteonline.org.
Graduates of the program will be eligible to sit for the national certification examination for the occupational therapist administered by the National Board for Certification in Occupational Therapy (NBCOT). After successful completion of this exam, the individual will be an Occupational Therapist, Registered (OTR). In addition, all states require licensure in order to practice; however, state licenses are usually based on the results of the NBCOT Certification Examination. Note that a felony conviction may affect a graduate's ability to sit for the NBCOT certification examination and/or attain state licensure.

View the National Board for Certification in Occupational Therapy pass rates.
Degree Requirements
The Entry-Level OTD is a professional, full-time, year-round commitment. Students complete 97 credits over three years, including three Level I Fieldwork experiences, a community program experience, two Level II Fieldwork experiences, a Capstone Project, and a Doctoral Experiential Practicum. Coursework is completed on campus with limited hybrid and online components. Review the degree requirements in the Graduate Catalog and program expectations for more information about required coursework, access to technology for online learning, and the course sequence.
Hands-on Learning
The Entry-Level OTD includes required laboratory and clinical learning experiences designed to reinforce classroom learning and further prepare students for career success.
Level I Fieldwork
Level I Fieldwork introduces students to the practice of occupational therapy by exposing them to a variety of occupational therapy settings and roles. Under the supervision of licensed practitioners, and with the support of faculty, students complete three Level I fieldwork experiences: one in mental health, one in adult physical rehabilitation, and one in children and youth practice. Students also participate in a community-based program to develop skills in conducting needs assessment and program development/evaluation.
Level II Fieldwork
Level II Fieldwork provides full-time, in-depth experience in delivering occupational therapy services to clients, focusing on the application of purposeful and meaningful occupational therapy services. Under the supervision of a licensed occupational therapist, and with the support of a faculty supervisor, students complete two required Level II fieldwork experiences focused on one or more of the following practice areas: adult physical rehabilitation, mental health, and children and youth. Each experience is a 12-week, 480-hour, full-time commitment requiring additional time for preparation on the evenings and weekends; students are not permitted to maintain employment during Level II fieldwork.
Capstone Experience
The Capstone Experience facilitates students in producing a high quality scholarly product. Through a two-course sequence, the student will design, propose, implement, document, defend, and disseminate an independent, evidence-based project related to their area of focus and addressing the priorities of the assigned community program/agency. Common areas of focus include: clinical practice, research, administration, program development/evaluation, or advocacy.
Doctoral Experiential Practicum
The Doctoral Experiential Practicum (DEP) serves as the final component of the capstone experience. It focuses on refining skills in the student's area of focus beyond the generalist level in a community program/agency. While completing their first several semesters of coursework, students work under a faculty advisor and the Doctoral Capstone Coordinator to design a DEP plan with individualized learning goals and objectives. Students must gain DEP approval and successfully complete the Occupational Therapy Knowledge Exam (OTKE) prior to site placement and DEP enrollment. The DEP experience is a 14-week commitment often requiring additional time outside of the on-site schedule for planning, review, and other related responsibilities; students are advised to eliminate employment during that time.
Estimated Costs: 3-Year ELOTD Program
This table contains estimates based on the 2022-2023 academic year: students are strongly encouraged to review the current official tuition and fee schedule that is maintained by the Student & University Billing Office and should independently determine their own costs.
Cost Estimate: In-State Residency
YEAR
(summer -
Spring)
tuition & fees
books/supplies
total
2022 - 2023
(32 units)
Tuition: $15,424
School Fees: $3,572
Course Fees: $150
$500
$19,646
2023 - 2024
(38 units)

Tuition: $18,316
School Fees: $3,892
Course Fees: $50

$500
$22,758
2024 - 2025
(27 units)
Tuition: $13,014
School Fees: $2,932
Course Fees: N/A
$300
$16,246
TOTAL
(97 units)
$58,650
Cost Estimate: Out-of-State Residency
YEAR
(summer -
Spring)
tuition & fees
books/supplies
total
2022 - 2023
(32 units)
Tuition: $31,936
School Fees: $2,572
Course Fees: $150
$500
$36,158
2023 - 2024
(38 units)

Tuition: $37,924
School Fees: $3,892
Course Fees: $50

$500
$42,366
2024 - 2025
(27 units)
Tuition: $26,946
School Fees: $2,932
Course Fees: N/A
$300
$30,178
TOTAL
(97 units)
$108,702
Additional Notes
Estimates do not include out of pocket expenses which may include but are not limited to: Background checks, health screening requirements, and/or transportation
Tuition and fees are estimated based on the current tuition and fee schedule and are subject to change. The Student & University Billing Office provides a full breakdown of tuition and fees.
The Provost Budge Office publishes the full list of TU's course/ lab fees.
Fees do not include room and board. Various housing and dining options are available through the university.
ELOTD Graduation Rates
| Graduation Year | Entering Students | Students Graduating | Graduation Rate |
| --- | --- | --- | --- |
| 2022 | 20 | 20 | 100% |
Making Connections in a Growing Field
Towson University Occupational Therapy students have presented their work at the annual conferences of the American Occupational Therapy Association, the Society for the Study of Occupation (SSO) USA, and the World Federation of Occupational Therapists Congress, and have co-authored publications with faculty. Throughout the program, students establish a strong professional network with facilities and practitioners, with opportunities in the Student Occupational Therapy Association (SOTA) and Pi Theta Epsilon, which often lead to a smooth transition to employment post-graduation.
We'd like to tell you more. Fill out this brief form, and we'll be in touch.
Request Information
Contact Information
Program Director
Entry-Level OTD Program Director
Sonia Lawson, PhD, OTR/L, FAOTA
Location
Linthicum Hall
Room 235E