Transformational Educational Leadership (M.S.)
The 100% online master's degree program in Transformational Educational Leadership (with embedded courses for Administrator I certification) prepares you to be a dynamic and effective leader in America's schools.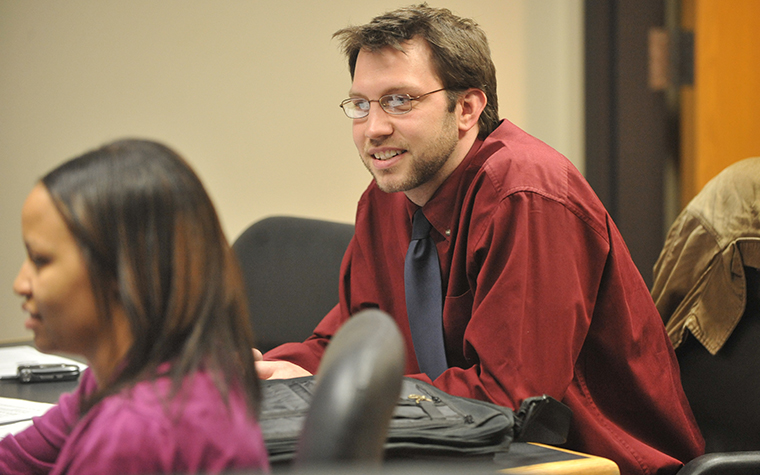 We promote an expanded view of leadership that includes leading from the classroom as well as the traditional school administrator pathway.
The 36-credit (12 course) master's program is designed for educators with at least three years of experience who desire to be leaders in classroom or administrative roles. Students complete six required courses and six electives in leadership or instructional content areas. View degree requirements and course descriptions in the Graduate Catalog.
The master's program is offered 100% online.
Credits from the following certificates may be applied as electives toward the M.S. in Transformational Educational Leadership. These programs are available through school district and organizational cohorts.
Ready to get started? Here's how to apply.
Apply Now
Why Study Educational Leadership?
The education field is constantly changing. There is a critical need for leaders who can thrive amidst these changes and create learning communities that support success for all students and faculty. If you are a certified teacher or licensed professional, the M.S. in Transformational Educational Leadership will support your career goals with advanced training in school and district leadership.
The M.S. in Transformational Educational Leadership offers:
A real-world curriculum centered on meeting today's and tomorrow

'

s educational challenges
A faculty with extensive school district and academic experience
Internships personalized to your areas of professional interest
Flexible formats with online, hybrid, and face-to-face options
Faculty and student learning communities providing networking and support
Multiple opportunities to exercise leadership in your own school from the first course in the program
why towson university?
Program Advantages
Towson University's history and reputation in preparing excellent educational leaders ready to future challenges
Approved by the Maryland State Department of Education for those seeking

Administrator I certification
Knowledgeable faculty mentors with significant administrative, leadership, and teaching experience
Convenient main campus and off-campus locations at TU in Northeastern Maryland (TUNE), the University System of Maryland at Southern Maryland, and at school locations throughout the state facilitated by the

Towson Learning Network, and completely online
Pre-internship school-based leadership experiences integrated into every
course
Strong content focus on:


–Building collaborative school cultures




–Ensuring safe school environments




–Promoting social and emotional learning




–Leading diverse and inclusive schools




–Embedding an equity lens at the core of a school's work




–Using evidence to make instructional decisions




–Engaging families and communities as partners in increasing student learning




–Advocating effective and equitable policies to decision makers based on student learning needs
Contact Information
Program Director
Kathy Orlando
Location
Hawkins Hall
Room 417C