Graphic Design Concentration
Graphic Design — the art and practice of communicating with images and text — reaches a wide range of audiences through a variety of media and purposes, and carries the power to change the world.
The graphic design concentration offers a comprehensive study of graphic design applied to a variety of media, including print and web/interactive. Graphic design courses help you develop skills in conceptual and critical thinking, typography, design theory and design technologies. Learn to create clear and effective communication as well as explore individual interests and aesthetic options.
The graphic design curriculum prepares you to enter the workplace immediately or to apply to graduate school. All students develop a professional portfolio and BFA capstone project in their senior year. Two levels of required foundation courses establish a fundamental understanding of spatial relationships, color, balance, compositional tension, image making, computer skills, motion and rhythm.
This is a competitive and screened concentration, and interested students must apply to the program. Students in this concentration receive a Bachelors of Fine Art (BFA) degree. View degree requirements in the Undergraduate Catalog.
State-of-the-Art Facilities
The graphic design program is equipped with two computer labs, housing state-of-the-art computers, Wacom Cintiqs and software for graphic design. A print center, located conveniently near labs for color or black and white prints, provides large format options. A letterpress shop, screen printing studio and laser cutting are also available through elective coursework.
WHY TOWSON?
Small classes taught by experienced faculty give you a real opportunity to interact with your instructors and fellow classmates, with a strong emphasis on conceptual thinking and social issues.
Participate in an internship at a graphic design studio, advertising agency or company with an in-house graphic design department. Work with faculty members to select the best internship placement.
AIGA is the professional association for design, and Towson boasts its own chapter. Student can attend chapter events in the Baltimore-Washington area, meet professionals in the field and begin building their own networks.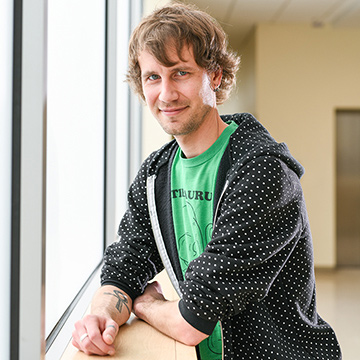 "Designers have no native medium. As a teacher, I am in rooms with students experimenting and creating without preconceptions, which is the most engaging job I can imagine."
Ryan Shelly, Lecturer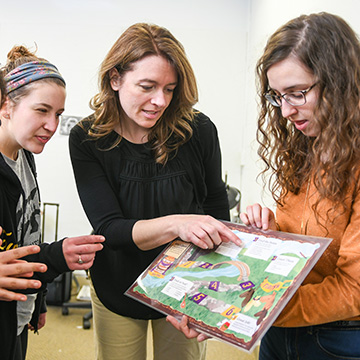 "Working with and supporting students in their creative journey as graphic designers is why I teach."
Kim Hopkins, Assistant Professor
Graphic Design Student Work Gallery
Graphic Design students create 3–5 design projects per course. Graphic Design studio projects demonstrate students' technical and aesthetic skills for entry into the Graphic Design field. Graphic Design student work by: A. Albrecht (top right), A. Dunkerton (bottom right).