New director of civic engagement & social responsibility teaching students to be change they want to see
Hübler ready to engage students in voting turnout, service learning and community involvement
By Kyle Hobstetter on October 4, 2022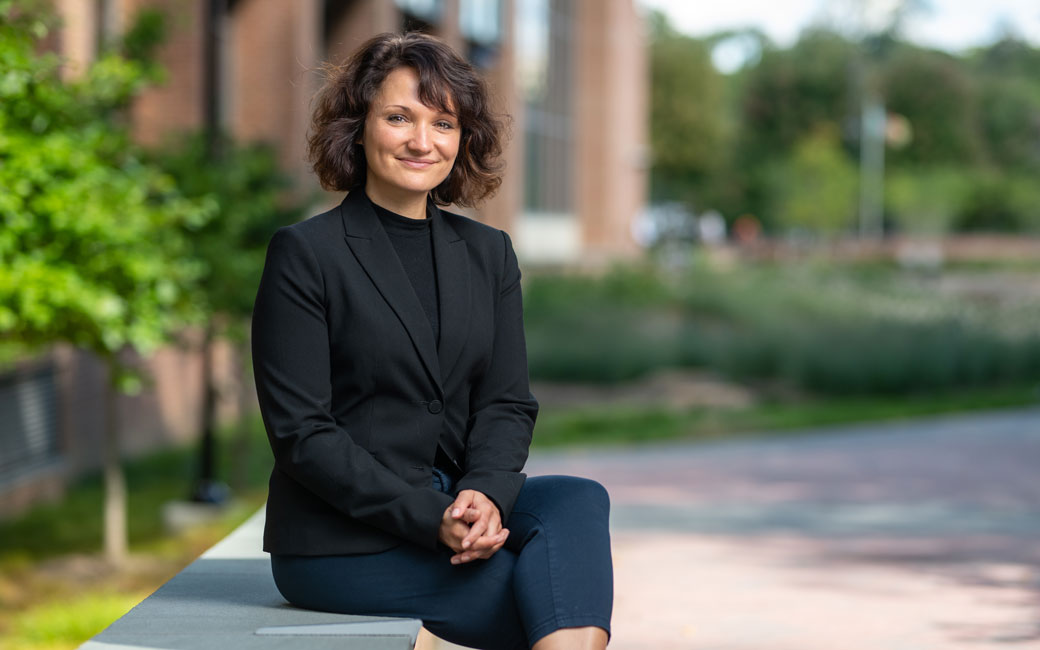 Romy Hübler's passion for civic engagement goes back to her childhood in East Germany before the fall of the Berlin Wall.
Growing up in Leizpig, she watched her father participate in the Monday demonstrations pushing for reform in the German Democratic Republic, an occupation zone set up by the then-Soviets after World War II.
Those peaceful protests played a central role in returning Germany to a unified country.
Hübler moved here in 2005 and spent more than 14 years working at UMBC, most recently as the associate director of the Center for Democracy and Civic Life. She also earned her bachelor's, master's and doctoral degrees from the university.
Now the director of TU's Office of Civic Engagement & Social Responsibility[BROKEN LINK], Hübler is hoping to show students they can influence the world around them.
"I saw first-hand that people can come together and bring about large-scale change," Hübler says. "I want to come up with new and exciting ways to build students' civic agency and develop their capacity to shape their communities and contribute to the public good."
She has hit the ground running with several initiatives to make TU a national leader in civic engagement.
Hübler's efforts to encourage students to take one-time volunteer opportunities and make them into long-term, engaged service-learning projects will give the students opportunities to learn from elected officials and community leaders along the way.
She is also focused on getting students more politically involved, especially during an in-between election. With the 2022 Mid-term Election quickly approaching, she if focusing on voter engagement this semester.
Hübler points out that while Towson University has great voter registration numbers (more than 80% of TU's student population is registered), but also wants to increase turnout numbers. To accomplish that goal, get-out-the-vote events are already planned for October and November.
Office of Civic Engagement & Social Responsibility
CLA Fall Roundtable: Democracy Imperiled? Why Your Vote Matters
When: Thursday, October 6, 5-6:30 pm
Where: College of Liberal Arts Building, 4310 and Zoom
Moderator: Alison McCartney (Department of Political Science)

Panelists:
After the roundtable, there will be a special voter registration portion open to the Towson University community.
It's through these initiatives Hübler is hoping to show the university community that they can change their community and also the world.
"We all have more power than we often believe," she says. "I will work with my team to create opportunities—whether that's through programs, immersive experiences or events—to help this community tap into that power and really see the possibilities for ourselves to co-create our communities and ensure our collective thriving."
Learn more about the Office of Civic Engagement & Social Responsibility's events by following them on Instagram