Two Tigers named Rhodes Scholarship finalists, most in university history
TU students succeed with assistance from Competitive Fellowships and Awards
By Rebecca Kirkman on November 8, 2022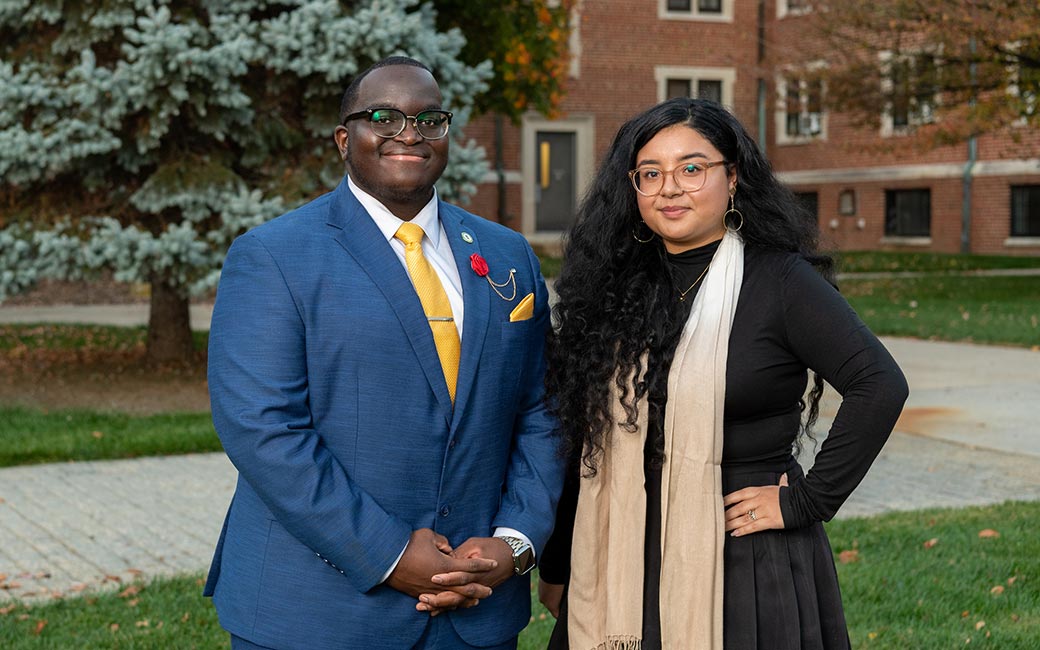 Towson University's Rasul Wright '22 and Briseyda Barrientos Ariza '22 have been named Rhodes Scholarship finalists.
It is the first time the university has had three nominees and two finalists. Tionna Harris, a senior chemistry major and Hill-Lopes Scholar, was TU's third Rhodes Scholarship nominee.
Political science major Reema Riaz '15 was the university's only prior finalist in 2015. The 2022 winners will be announced Nov. 13.
The announcement follows unprecedented recognition of TU students and alumni in highly sought-after awards, including four Fulbright award winners and a Truman Scholarship finalist in the spring.
"We are immensely proud of Briseyda and Rasul for achieving this most prestigious honor," says President Kim Schatzel. "This is a testament to their outstanding accomplishments and the tremendous commitment of our institution toward student success. I also want to recognize the great work being done by TU's Office of Competitive Fellowships and Awards to support our students in these highly competitive national academic awards."
Since its establishment two years ago within the Office of the Provost, Competitive Fellowships and Awards (CFA), led by Mary Sajini Devadas, associate professor of chemistry, guides students in applying to highly competitive scholarships. CFA celebrated the opening of its physical space in The Residences at 10 West Burke Avenue on Nov. 3.
The oldest and most celebrated international postgraduate award, the Rhodes Scholarship brings 32 students from the U.S. to the University of Oxford for a fully funded, full-time study for two or more years. Rhodes Scholars are chosen not only for their outstanding scholarly achievements but also for their character, commitment to others and the common good, and their potential for leadership in their field.
"The process is highly competitive and intense," says Devadas, noting students must submit eight letters of recommendation attesting to their academic excellence and character alongside a letter of endorsement from TU and their own personal statement. "We thank the faculty and staff who wrote such eloquent and thoughtful recommendation letters, which are extremely vital to the student application portfolios."
Ariza is a first-generation college graduate and University Scholar who majored in English literature and psychology. While at TU, she worked as a resident assistant and Writing Center tutor, founded the Honorables of Color and researched the oral histories of Guatemalan people on female figures of their regional folklore.
"Briseyda is an astute scholar and writer, passionate leader, voice for the less fortunate and breaks down barriers," says Devadas. "There is no stopping Briseyda once she sets her plan in motion to set wrong things right. She is as persuasive as she is patient and has a no-nonsense, pragmatic approach to solving injustice."
Wright, a senior majoring in history and secondary education with a pre-law track, is a TU Writing Center tutor, academic mentor through the TU Teacher Scholars Summer Institute, president of the TU chapter of the national history honor society Phi Alpha Theta and the keynote speaker at the university's 2022 Diversity, Equity and Inclusion Summit. With his twin brother Malachi, Wright's desire to give back to other students in need was profiled by WBAL TV.
From TU Magazine: The one job that changed Rasul Wright's life
"Sometimes it takes people a lifetime to find their passion and purpose, but Rasul was born with the mind to serve others," Devadas says. "I salute his achievements and his will to be a change agent, bringing about educational reform for the betterment of humanity."
Students interested in pursuing these award opportunities should start early, Devadas says. Faculty interested in nominating students for nationally competitive scholarships can do so here.
For more information, follow the office on Instagram and Twitter.