Celebrating the Class of 2023
Share in the success, academic achievements and indelible mark graduates have made on the TU community.
Tigers for Life
The 2023 Spring Commencement ceremonies, held May 24–26 at SECU Arena, celebrate the newest Towson University graduates.
These students join a community of more than 186,000 Tiger alumni around the globe putting their skills to use to solve complex problems and make the world a better place.
Below, we highlight several of our graduates who overcame obstacles, seized opportunities and are ready to tackle new challenges with their TU degrees.
Share your story and celebrate your success on social using #TUproud. Tag Towson University for a chance to be featured!
Re-live Your Graduation
Ceremony Photos
TU partners with GradImages to provide degree candidates with photos taken during the ceremony. Find your photos now!
2,524
Undergraduate Students
College of Liberal Arts
Sydney Redford
"Being in classes where you can engage in international negotiations and collaborate with other students has been very insightful and fun. Conducting research that will hopefully make a change in international policies and continuing that research because of Towson and the Undergraduate Research Club has allowed me to grow as a researcher and a potential practitioner."
Redford is graduating with a bachelor's degree in political science and international studies with minors in anthropology and French.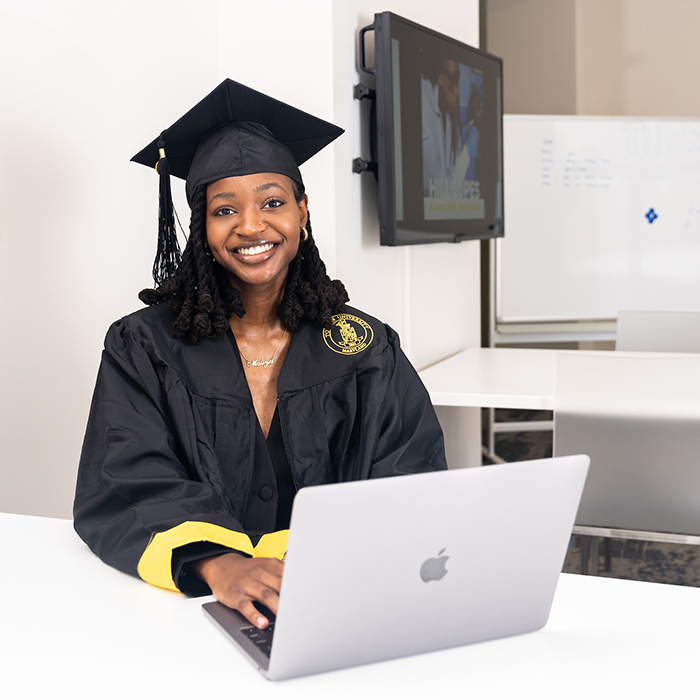 Fisher College of Science & Mathematics
Maliya Baxter
"I used to think of graduating as the end of something, but graduation is only the beginning of something greater. Obtaining your undergraduate degree is the loading period to the rest of your life. During this time you get to explore different things, make mistakes in a safe environment and learn all the skills you need to put you on the trajectory toward success."
Baxter is a Hill-Lopes scholar graduating with a bachelor's degree in computer science.
College of Health Professions, College of Business & Economics
Aaron Grigg
"Graduating means so much to me as there have been times where I had doubts that I could—that my trajectory after joining the military would take me elsewhere. Reaching this point is incredibly gratifying and proves that sometimes the best path forward is not always linear."
Grigg is graduating with a bachelor's degree in health care management and a minor in business administration.
College of Education
Shumaila Saher
"I would like to share a message with other moms and immigrant families that dreams can come true. The only thing that you need is to be determined about the area you are focused on for a graduate program. At Towson University cultures are celebrated, languages are not a barrier for pursuing your dreams and great teachers inspire you to reach your goals. Towson makes everything possible for your success—just think big and become a part of it."
Saher is graduating with a master's degree in reading education.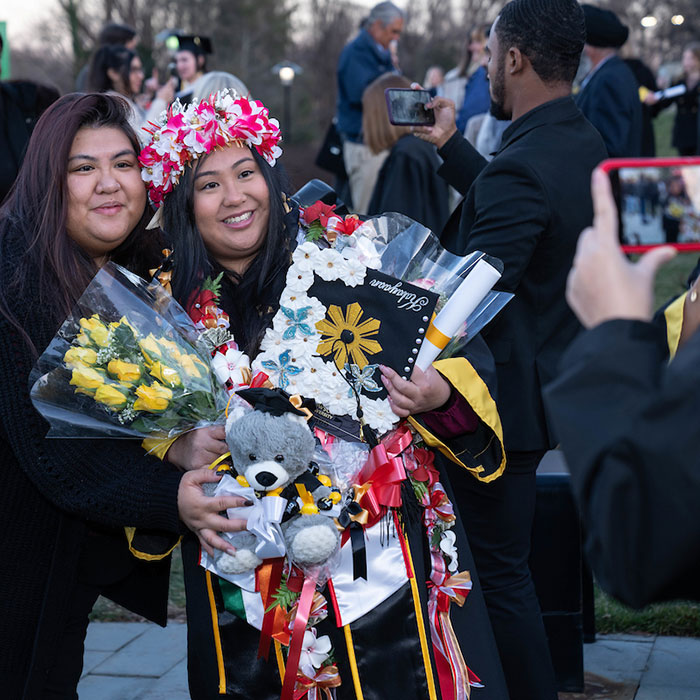 TU Photographic Services captures moments of celebration during the ceremonies. Check out more Commencement photos on Flickr.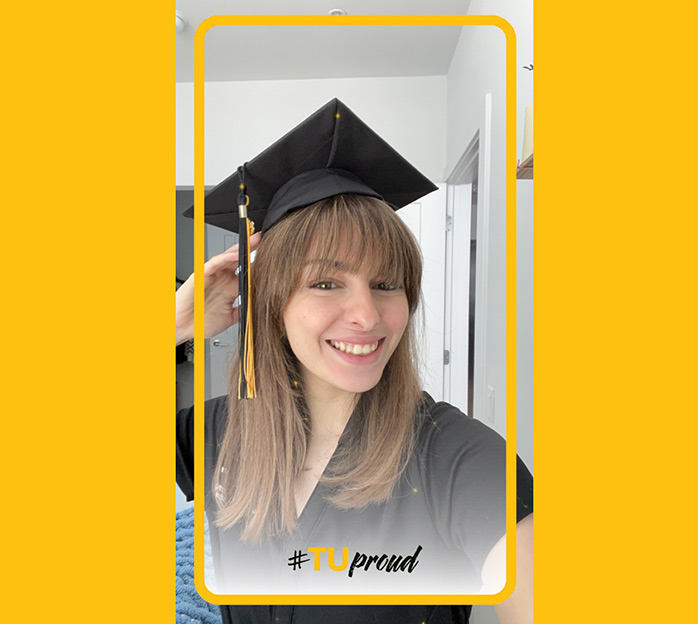 Show everyone how #TUproud you are on Snapchat! Find our TU custom filters and lenses.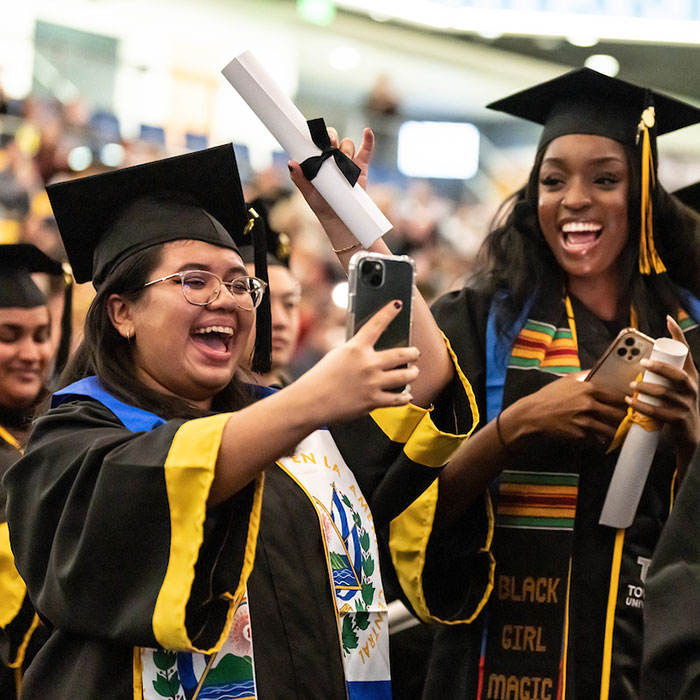 Add Tiger pride to your photos with custom graduation GIFs on Instagram and Facebook.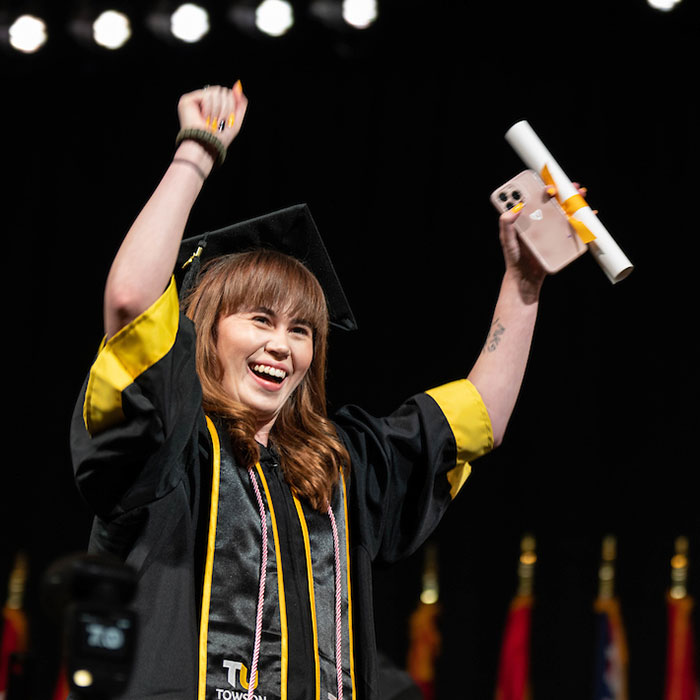 We're excited to celebrate each of you! Tag Towson University and use #TUproud on social.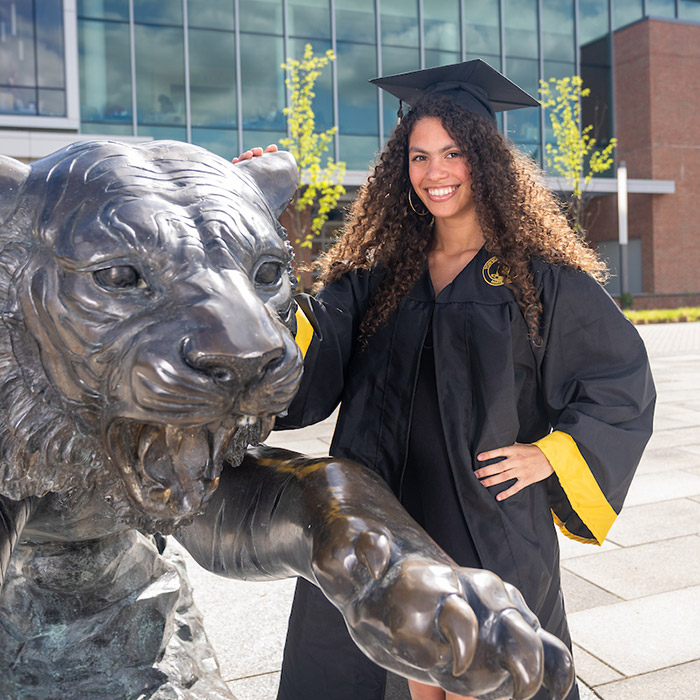 College of Fine Arts & Communication
Sofia Merkowitz-Bustos
"Working for the Campus Activities Board has allowed me to use the advertising and design skills I learned in my courses combined with my goal of working in the entertainment industry. It has also allowed me to create great connections with many people in the Towson community."
Merkowitz-Bustos is an Honors student graduating with a bachelor's degree in mass communication (advertising track) and art + design (design studies track).
College of Business & Economics
Marvin Johnson
"Graduating means I made it over a big milestone. I have beaten the statistic as a Black man and I can push onward to the next step. I would tell my peers to use all your resources. There are opportunities everywhere, you just have to know the right person. Join SAGE (Students Achieve Goals through Education) as a mentee or mentor, learn in a leadership role—you might meet someone who is in a job you want."
Johnson is graduating with a bachelor's degree in business administration with a concentration in leadership and management.
College of Health Professions
Jennifer Grove
"There will be times that you want to give up, drop out, procrastinate on a big assignment. There will be times that you have to decline an invite or go home early to study or write a paper. The important thing is to remember your why.
I came back to get my bachelor's degree for my kids, because I want to give them an amazing life. I am returning to TU [this summer] for my master's degree for the same reason. They have always been my why. Everything that I do, I do for them."
Grove is graduating with a bachelor's degree in allied health with a concentration in administration/management.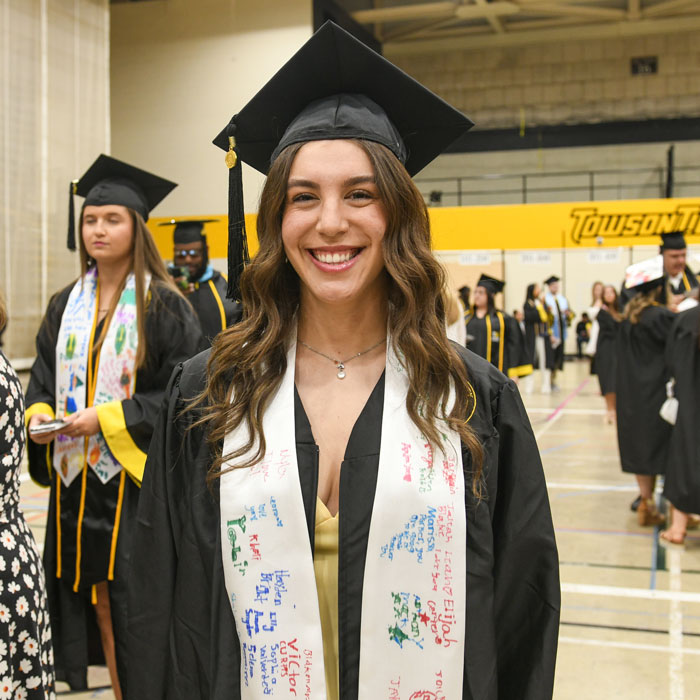 Kimberly Caceci
"Teaching can be a very isolating profession because you're in your own little world all day, so it's very refreshing and comforting to have my cohort. That sense of camaraderie is something that I'll hold in my heart and I'll definitely miss." Caceci graduated with a degree in elementary education.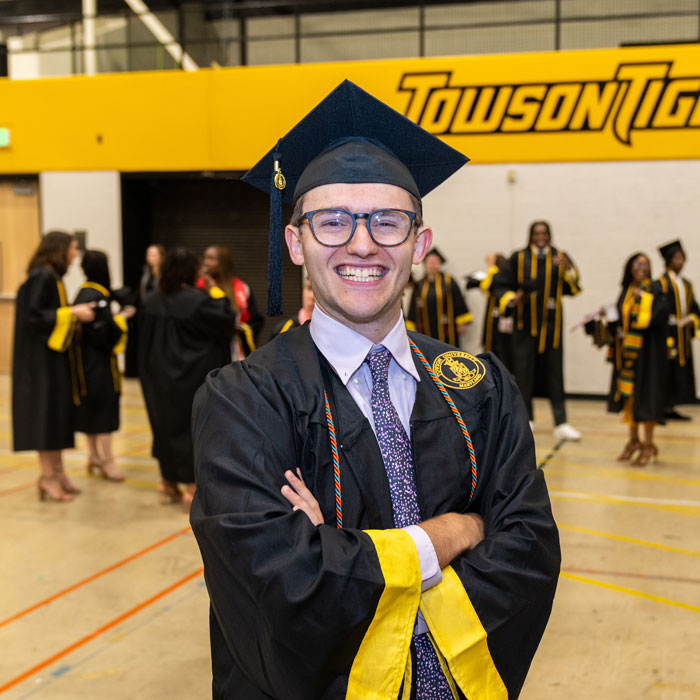 Liam Jones
"I feel ready to go! If you asked me that six months ago, I would have said this was crazy. But I can honestly say I'm ready to join the work force. I have a job teaching middle school next year, and I'm really excited about it." Jones graduated with a degree in music education.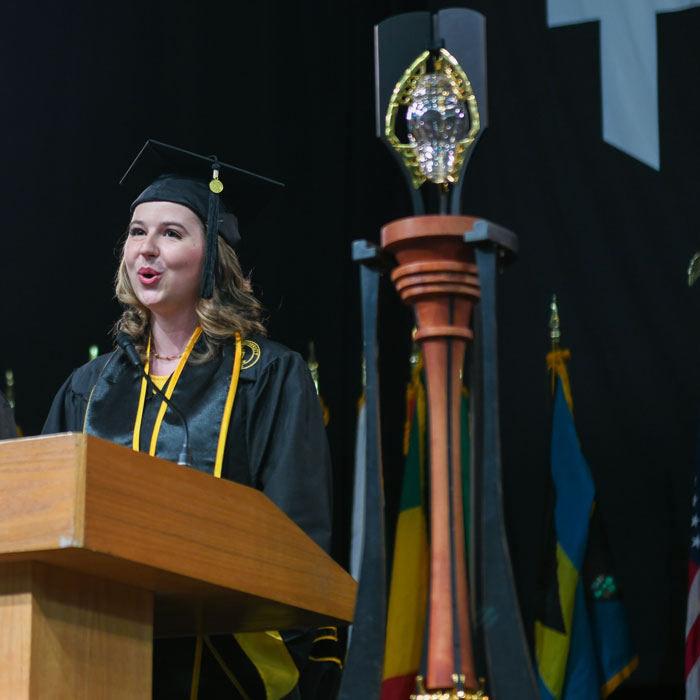 Alexis Arthur
"It feels incredible to have gone through this, double-majoring in two completely different things. It's a relief to be done, but it's also bittersweet because I've had such a great time here." Arthur graduated with degrees in economics and music.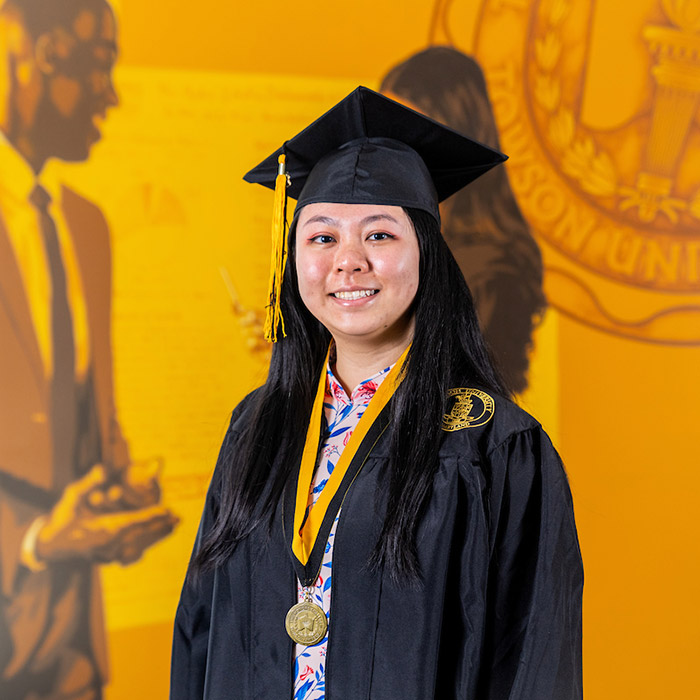 Fisher College of Science & Mathematics
P.D. Nguyen
"I was able to achieve my parents' dream. They immigrated here from Vietnam in hopes to provide my brother and I a better life and a better education. I was able to achieve so much with all the support and encouragement that Towson University gave me. My parents will be able to see that as I walk across the stage for Commencement."
Nguyen is an Honors student graduating with a bachelor's degree in computer science.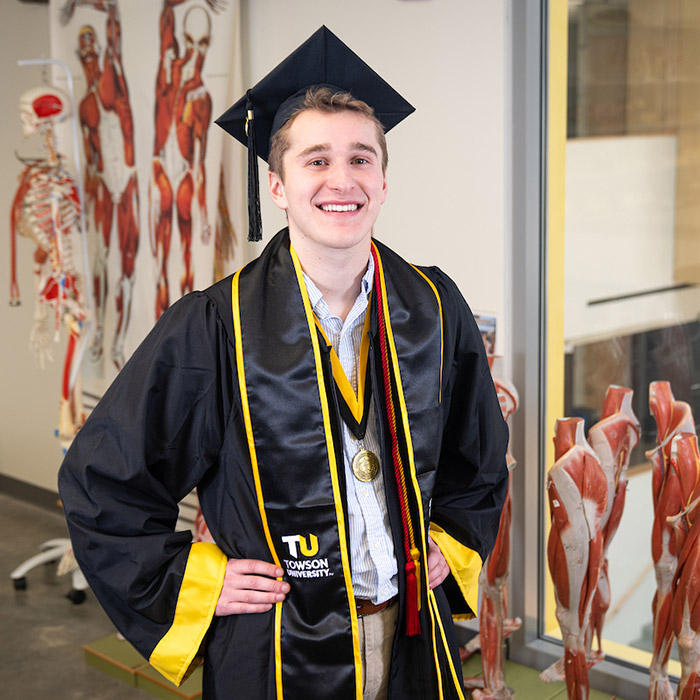 College of Liberal Arts
Joshua Wilmer
"Being an undergraduate researcher has been the most impactful and unexpected experience I've had at Towson. Researching cellular regeneration under my amazing mentor and alongside my peers has been such an amazing experience and one that has furthered my passion for medicine. As an Honors College student I have been able to present my research at several academic conferences around the country, learning so much and having a ton of fun along the way."
Wilmer is an Honors, pre-medical student graduating with a bachelor's degree in Spanish.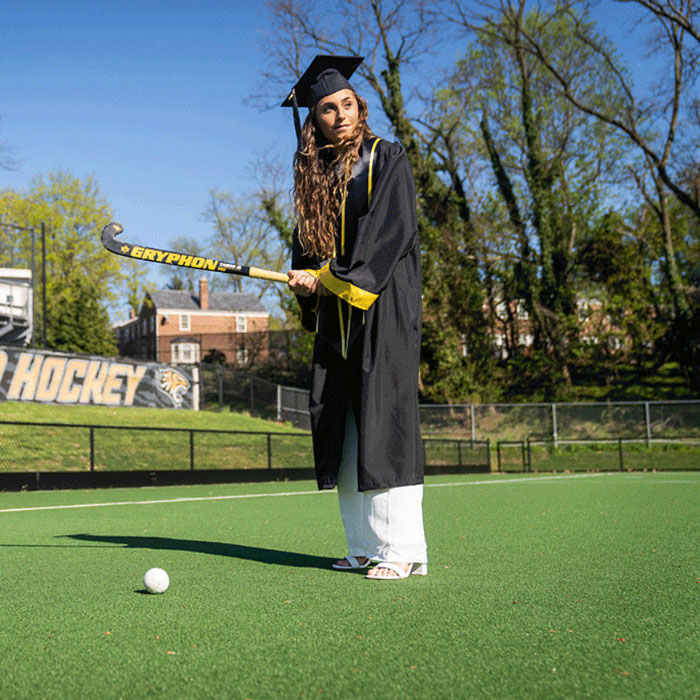 College of Business & Economics
Gianna Antone
"Playing field hockey has been the most significant aspect of my time at TU. The athletic program has provided me with a multitude of opportunities to excel and has motivated me to achieve my academic goals. Being a part of something bigger than myself has inspired me to strive for more, not only for myself but also for my teammates. I was fortunate to be part of a supportive family at Towson, and the memories of this experience will remain with me forever."
Antone is graduating with a bachelor's degree in business administration with a concentration in marketing.