Marketing Intelligence (M.S.)
What Is Marketing Intelligence?
Marketing intelligence is the integration of marketing research, strategy, analytics, data management and interactive marketing. Towson University's master's degree program in marketing intelligence with an embedded post-baccalaureate certificate in interactive marketing is designed with an applied, experiential learning focus based on industry needs. Through rigorous coursework and hands-on research, you will learn how to acquire, analyze and utilize marketing data and gain the experience necessary to enter high-level positions responsible for strategic decisions.
Why Earn a Master's in Marketing Intelligence?
The U.S. Bureau of Labor Statistics projects employment of market research analysts to grow 32 percent from 2012 to 2022. But the career opportunities aren't just growing. As the field of marketing continues to evolve toward greater use of data and interactive technology, the career paths of data analysts and marketing specialists are overlapping increasingly. Companies need individuals with business mindsets, marketing knowledge and managerial skills who also understand database systems, big data and complex analytics.
As a graduate of Towson University's marketing intelligence master's program you will have that diverse skillset and be qualified for jobs such as:
marketing intelligence analyst
digital marketing manager
marketing research analyst
customer insight specialist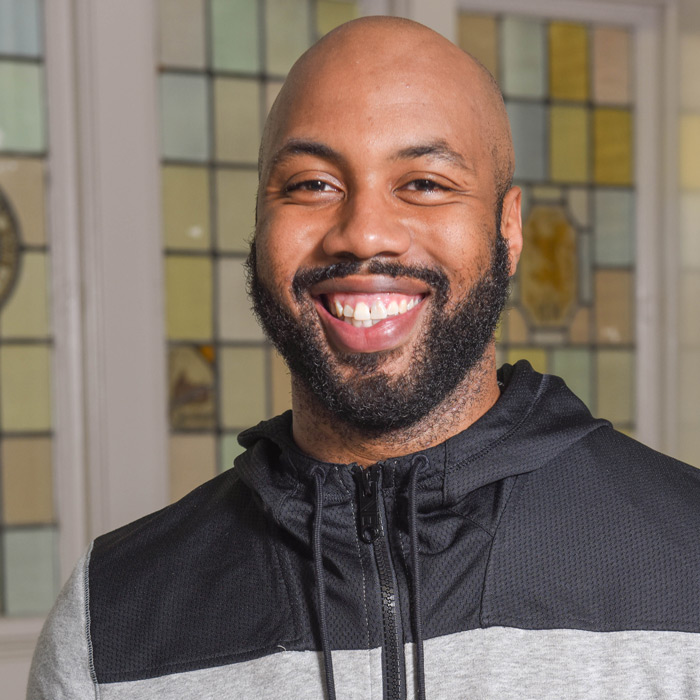 Student Profile — Amos Leak '17
Amos has extensive experience in sports management and marketing. With a bachelor's degree in sports management/business marketing and a master's degree in sports management, Amos has worked for global sports apparel brands Converse, Nike and Reebok as well as professional sports teams the Philadelphia 76ers and Philadelphia Flyers. While pursuing his degree in marketing intelligence, he is working as the field agent/retail marketing rep for the Baltimore region for Adidas corporation.
Why Towson University?
Applied Courses that Stay Current
Update your resume as you go with courses incorporating in-demand niche skills as they emerge or change
Earn Google AdWords, Hootsuite and Hubspot certifications

Plan, implement and evaluate an independent project for a client as part of a practical, real-world problem-solving experience
Industry Interaction
Learn from and network with marketing professionals from companies like Merkle, AOL, Jellyfish, Salesforce and Fraud Sniffr at special guest speaking events and site visits
High-tech Resources
Research and focus group facilities to conduct projects
World class eye-tracking system for user interface studies and causal research
CEGA databases including 230 million U.S. consumer data points and 16 million U.S. business data points for market research
Use of SQL, Python, R and Tableau for queries, analyses and visualization
Cohort-based Learning
Study and work alongside fellow marketers
Be part of a community of students with shared experiences and professional goals
Expand your network and professional connections
Flexible Options
Whether you're a working professionals or a full-time student, the master's program can work for you with options to complete the degree in one year or two years. With the two-year plan, you can also choose to earn an additional post-baccalaureate certificate in project, program and portfolio management to enhance your degree.
To learn more, see example course of study plans and course descriptions.
Degree Requirements
Admission to the master's degree program in marketing intelligence is competitive. The degree requirements include 30 units that may be completed in a two-year suggested course sequence.
Tuition Costs
Estimated Tuition and Fees for 30 credits (based on tuition and fees for fall 2016)
In-State: $15,090
Out-of-State and International: $27,270
The tuition rate is dependent on your residency status in the state of Maryland. The estimated tuition amounts listed above do not include books or additional course materials that are required to attend class. These tuition figures are estimated for the fall 2015 and are subject to change by the University System of Maryland Board of Regents at any time.
For more information on tuition and fees, visit the Bursar's Office.
Contact Information
Philippe Duverger, Program Director
Location
Stephens Hall, Room 123D