Meditation & Mindfulness Services
We invite you to browse our resources below to learn more about developing your own meditation practice, utilizing services available at the Counseling Center as well as other resources in our local community and beyond.
Meditation Room
Services in the Counseling Center's Meditation Room are open to all TU students as well as Counseling Center clients. Students are invited to book individual time in the room and select their own meditations from our library.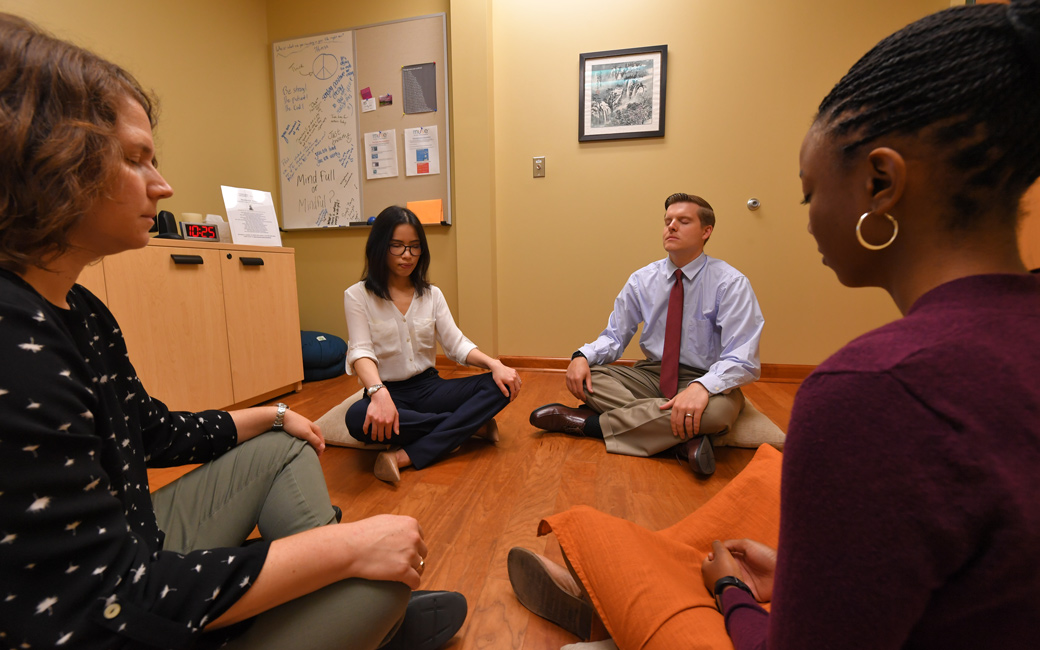 What Is Meditation?
Meditation is a technique that involves slowing down and turning inward, practicing mindfulness. Mindfulness can be defined as full attention to the present moment with nonjudgmental acceptance. Mindfulness meditation helps individuals cope more effectively with uncomfortable thoughts and feelings, decreasing stress. Benefits of mindfulness include more positive emotions, less worry, reduced reactivity to stress and improved overall health.
Using the TUCC Meditation Room
Our meditation room is available to students at any time during the Counseling Center's hours of operation (Monday-Friday, 8:00 a.m - 5:00 p.m.).
If you plan to drop by the meditation room, please phone the center ahead of time to reserve the space at 410-704-2512.
Using the Meditation Room Information
Materials Provided
The following materials are available to help your practice, including:
guided meditation recordings
MUSE headband meditation feedback device
essential oil diffuser
benches
meditation cushions
yoga mats
access to a computer
Before You Arrive
Before you come to the Counseling Center, it is important to know the following:
Use of the meditation room must be reserved. If you call ahead of time to reserve the space and do not show, your ability to use the room may be impacted in the future.
You must check in at the Counseling Center front desk when you use the meditation room.
Bring your student ID.
Users of the meditation room are responsible for materials in the space.
Dress comfortably.
For more information, phone 410-704-2512.
Guided Pre-Recorded Meditations
Guided pre-recorded meditations are available for you to use. When the Meditation Room is open during the fall and spring terms, you may access the digital recordings on our Meditation Room computer or you may select meditations from our cd collection and play them while you are in the room. Don't forget to call ahead to reserve your time in the Meditation Room.
When the Meditation Room is not open, you can still access our schedule of pre-recorded meditations from your own internet-connected device. Click to see our schedule of pre-recorded meditations that you can use for every week of the semester.
Developing Your Own Meditation Practice
Interested in developing a meditation practice on your own? Check out these sites and apps:
Additional spaces for learning and practice within the TU community and beyond:
Massage Chairs
Need a study break? Tests, papers and schoolwork giving you knots in your back? Feel free to call us at 410-704-2512 and schedule a 30-minute appointment with one of our full body massage chairs.
Our Relaxon Massage Chairs offer zero gravity shiatsu with built-in heating massage, zero gravity and L-track massage rollers.
Heating pads are placed in the lumbar area of your back and can be used to heal sore muscles (not advised to be used if pregnant).
Zero gravity promotes relaxation throughout the body so the massage will have a much greater effect on your body.
Massage rollers are meant to mimic the motion of professional massage therapists and can massage you from your neck to your buttocks.
Using The Massage Chairs
Other Features
full body stretching to increase flexibility

dual foot rollers for reflexology

extendable foot rest and calf massage

can provide deep tissue, kneading, tapping or combo

adjustable massage speed and intensity
Guidelines and Rules to Using Chairs
Students must present their TU student ID to reserve a time slot.

No more than 1 student may reserve a time slot or use a chair at any given time.

When using the massage chairs, students are asked to refrain from using phones, talking with others, or engaging in any other activities.

Please be mindful that counseling appointments are occurring in the offices next to the massage chairs, please be respectful of noise levels.

Any disruptive or inappropriate behavior may impact future ability to access massage chair and meditation room services.

If placing feet in foot massage holders, please remove shoes and use footies.

The timer for the massage chairs can be set for up to 30 minutes. When done, please gather your things and leave the space as you found it. A staff member will not come around to remind you that your appointment has ended.

For the courtesy of others, please wipe down the machine with wipes at the end of use.

Please use paper for headrest and change when finished with your session.